CycleUp, is an environmental and training social enterprise which addresses the issue of textile waste through a community development approach to environmental protection, supporting the hardest to reach women and families to engage.
What We Do
This initiative trains individuals and groups in the repair and reuse of materials and produces upcycled items for sale as part of the circular economy. By upcycling waste and unwanted textiles through its training and social enterprise, CycleUp raises awareness of the Circular Economy, as well as educates and empowers women to generate flexible employment opportunities while protecting the environment in a rural context.
CycleUp Upcycled Products
Meet my new Owl, handmade by Mary-Frances from CycleUp Textiles…Great to see such ingenuity, craft and recycling!
Minister Simon Harris TD (instagram)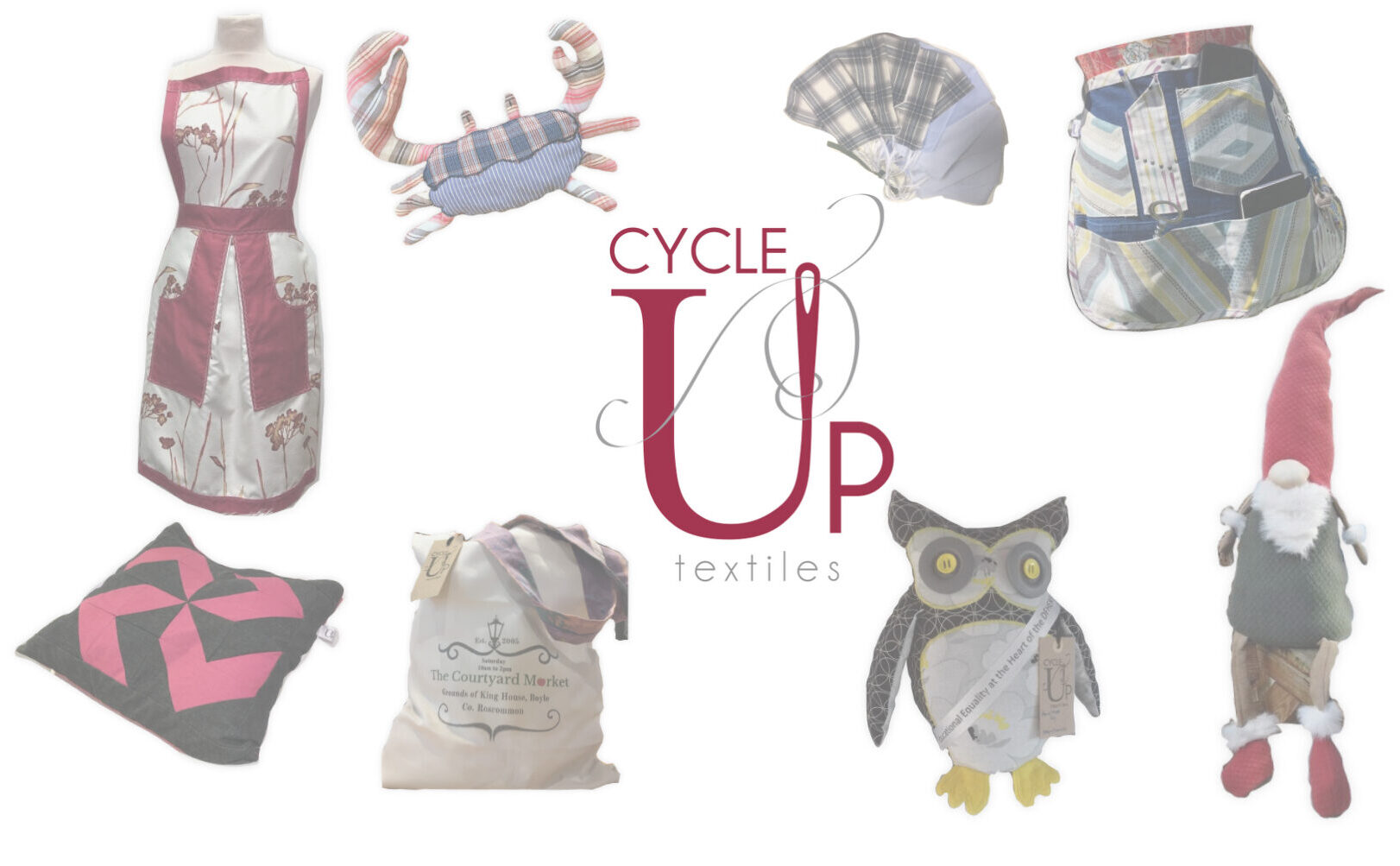 An online CycleUp Store has been established on the RWN website and a marketing campaign to promote our recent giftware, fashion and homeware products through social media is ongoing. Check out our CycleUp Store, our CycleUp Instagram and CycleUp Facebook Page to see our range of products. We also take commissions from organisations to produce environmentally friendly items such as souvenirs, aprons and bags. Previous Clients include AONTAS, The International Marine Conservation Conference, Roscommon County Council, The Courtyard Market in Boyle, Willow Outdoor Playschool, Kilmovee Heritage Centre and most recently Kepak Athleague. Call 094 9621690 or email Martina to discuss your idea for a commission
"We are delighted to partner with Roscommon Women's Network as part of Kepak Athleague's annual Christmas gifting initiative for 2021. The gifts are cleverly handmade using upcycled textiles from RWN's charity shop. As sustainability is a core part of our work here at Kepak Athleague, this local partnership was a no-brainer for us to take part in. The detail and quality of their gifts is exceptional. We at Kepak Athleague look forward to working with this wonderful group again in the future."
Lorna Kennedy, Purchasing Manager, Kepak Athleague in December 2021
We bought these beautiful aprons for our teachers…excellent craftswomanship and made by reusing and reimagining unwanted textiles
Katie, who purchased our upcycled aprons for her staff in June 2021 (Facebook)
CycleUp Workshops
Revived my interest in sewing, most enjoyable workshop with helpful tutors
Mary, attendee at a community workshop held in July 2021 (feedback questionnaire)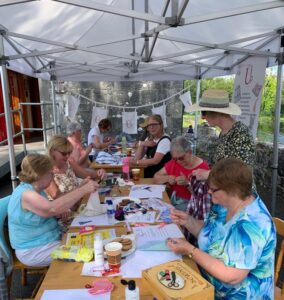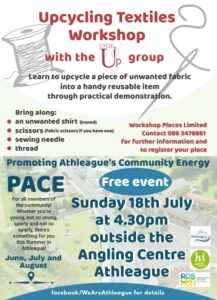 Our trained upcycling tutors design and deliver practical, informative and fun Upcycling Textiles Workshops for Community groups, Workplaces and Schools where participants learn to make a simple but useful item from unwanted textiles in an informal social setting while learning about what can be done to reduce the impact of textile waste on the environment.
Call 094 9621690 or email Martina to find out how to book a workshop at your location or at our Training Centre.
Textile Upcycling Training Courses in conjunction with GRETB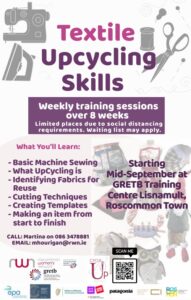 Inspired by the Great British Sewing Bee and interested in learning how to upcycle textiles? Then Roscommon Women's Network have a training course just for you.
Discover how to identify which fabrics are suitable for upcycling, learn how to deconstruct a garment, pick up new cutting and pattern making skills as well as basic machine sewing techniques all while learning about the effects of textile waste on the environment. Courses run for 8 weeks and have taken place in Castlerea, Monksland, Roscommon Town, Athleague with our current course running in Castlerea till Christmas 2022.
Contact Martina at mhourigan@rwn or call 094 9621690 for further information.
Background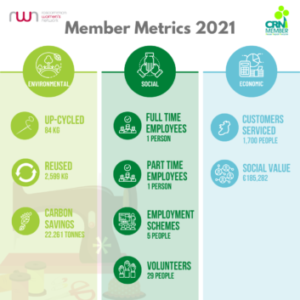 This environmental training social enterprise progressed from the success of the Roscommon Women's Network (RWN) Textile Upcycling Pilot Project in 2019 which was co-funded by the Local Agenda21 LAPN and Dept. Communications, Climate Action and Environment as well as clothing brand Patagonia with support from Galway Roscommon Education and Training Board (GRETB), The Roscommon Environmental Network and the Rediscovery Centre. Following on from the evaluation and results of the pilot project, RWN secured funding from the Environmental Protection Agency (EPA) under the Green Enterprise initiative for the WECAN project for 2021. This funded a project manager for a 12-month period to develop and grow the Social Enterprise, promote and market upcycled products to increase sales, expand the training reach throughout the region and beyond and spread the message of the circular economy through networking and outreach workshops.
In May 2021, 7 of our Upcycling Textiles Group Participants completed the Training Delivery and Evaluation QQI Level 6 to qualify as tutors for Upcycling Textiles Training Courses and Workshops.